Tampa's Most Experienced PRP Facelift Treatment Center
Platelet-Rich Plasma Facelift
Naturally Promote Healthier Skin with the PRP Facelift Treatment
at Tampa Bay Hair Restoration in Pinellas County, Florida.
Rejuvenate your appearance with the PRP Facelift at Tampa Bay Hair Restoration in Florida. The PRP Facelift (improved version of the Vampire Facelift®) is a non-surgical facelift that naturally lifts and tightens the muscles of the face using Platelet-Rich Plasma injections + dermal fillers. The anti-aging treatment works to reverse the formation of severe facial wrinkles, stimulate natural collagen production, improve the quality of skin, add volume to the face, and so much more!
Dr. Michael Markou, DO, at Tampa Bay Hair Restoration is a board-certified Doctor of Osteopathic Medicine who has undergone extensive training and education in the many different uses of Platelet-Rich Plasma (PRP). As one of the leading doctors in Regenerative Medicine, Dr. Markou was one of the very first physicians in Florida to offer PRP Therapy back in 2009. We're proud to offer both the PRP Facelift and the PRP Facial for patients in the Tampa, Clearwater, St. Petersburg, and Pinellas County area.
Is THE PRP Facelift Right for You?
The PRP Facelift is a viable option for both men and women, but it's always best to consult with a licensed and certified doctor to find out if the cosmetic treatment is right for you. The PRP Facelift can be used to treat the following areas:
Fine lines around the mouth
Crow's feet (lines around the corners of eyes)
Dark circles around the eyes
Forehead wrinkles and creases
Grayish skin tone
Dull, rough or uneven texture of skin
Collapsed facial shape and structure
Loose skin on face or neck
Hollowness underneath eyes
Acne and/or superficial scarring
Hyperpigmentation & hypopigmentation
Sun damage

What is the PRP Facelift?
Platelet-Rich Plasma (PRP) is a form of blood plasma naturally produced within the body with a concentrated source of autologous platelets. These platelets are rich in special protein growth factors that significantly help to promote healing, stimulate dormant or damaged cells, enhance regeneration, and accelerate new growth. Due to the natural effectiveness of PRP Therapy, the treatment has become widely used in many different areas of medicine – from hair restoration to sports injuries to osteoarthritis.
The PRP Facelift is a cosmetic procedure used to improve the overall appearance and shape of the face. With the use of Platelet-Rich Plasma and hyaluronic acid fillers, the facelift treatment offers a natural and therapeutic form of facial rejuvenation. The "Vampire" Facelift gets its name from being an autologous treatment that involves injecting the patient's own blood back into the facial area. PRP injections work to enhance the quality of skin by improving blood flow to the treated area, increasing collagen and elastin production, repairing damaged skin cells, and promoting new cell growth.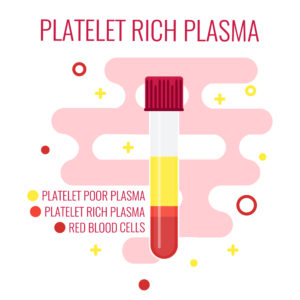 How Does the PRP Facelift Treatment Work?
The Platelet-Rich Plasma Facelift is a non-surgical procedure performed directly in our office. The facelift treatment features a virtually pain-free experience with no incisions, stitches or sutures. A local anesthesia will be used to ensure minimal discomfort, with most patients reporting little to no pain during and after. Similar to the PRP Facial, the PRP Facelift only takes approximately 1 hour to complete.
1. Blood Draw
The Platelet-Rich Plasma used for the Vampire Facelift is taken from the patient's own blood through a simple blood draw. Just a couple of tubes of blood are required to perform the facelift procedure.
2. Centrifuge
Blood is derived of white blood cells, red blood cells, platelets, and plasma. The PRP centrifuge (machine that separates different densities within a liquid) will be used to separate the platelets from the rest of the blood product.
3. Injections
The separated PRP will then be placed into a very thin syringe and strategically injected back under the skin. Once the PRP has been activated, it will begin naturally rejuvenating the skin from the inside-out.
4. Fillers
The PRP Facelift procedure combines the PRP injections with a hyaluronic acid filler, such as Juvederm. Hyaluronic acid is a naturally occurring chemical in the skin that adds volume and shape to the face.
Recovery
One of the greatest appeals to the PRP Facelift is its minimally invasive nature, especially when compared to more drastic cosmetic treatments. Minimal to no downtime is required, with most patients returning to their normal schedule by the following day. Due to the intensity of the Florida sun, Dr. Markou will recommend staying out of direct sunlight for the next 1 to 2 days.
Results
Patients can expect noticeable changes in the tone and texture of your skin almost immediately after the PRP Facelift, with the most optimal results usually being seen at 3 months to up to 1 year. It's important to note that aging can affect each individual person differently, so results may differ depending on the effects aging has on you. This is why it's always recommend to discuss your best options with a qualified professional.
PRP FacELIFT in Tampa, Florida
Dr. Markou has dedicated the past 25 years of his career to researching the latest advancements in regenerative medical advancements to offer only the best in results for his patients. He's a Florida Delegate of the American Osteopathic Association, Board of Trustees Member of the Florida Osteopathic Medical Association, member of the American Academy of Anti-Aging Medicine, and more. In addition to cosmetic treatments and hair restoration, Dr. Markou also offers Platelet-Rich Plasma + Stem Cell Therapy to treat meniscus tears, sports injuries, chronic pain, osteoarthritis, and various orthopedic problems at his Medical Centers in Clearwater and Tarpon Springs, Florida. See Dr. Markou's full list of accreditations and achievements.
Tampa Bay Hair Restoration offers Platelet-Rich Plasma for facial rejuvenation and hair regeneration in Florida. While our physical location is in Clearwater, we happily serve patients all throughout the Tampa and Pinellas County area. We're currently offering FREE initial consultations for the PRP Facelift Treatment. Dr. Markou personally handles every consult and procedure. Schedule your consultation to receive a personalized treatment plan and start defying the odds of aging today. For more information or to schedule your free PRP Facelift consultation, please contact us today by filling out the form below or giving us a call at (727) 446-0608.
PROUDLY SERVING: Clearwater Beach, Tampa, St. Petersburg, Sarasota, Brandon, Tierra Verde, Madeira Beach, North Redington Beach, Seminole, Indian Shores, Largo, Belleair, Dunedin, Safety Harbor, Palm Harbor, Tarpon Springs, New Port Richey, Oldsmar, Land O' Lakes, Odessa, Town N Country, Lakeland, Orlando, and the surrounding Florida areas!